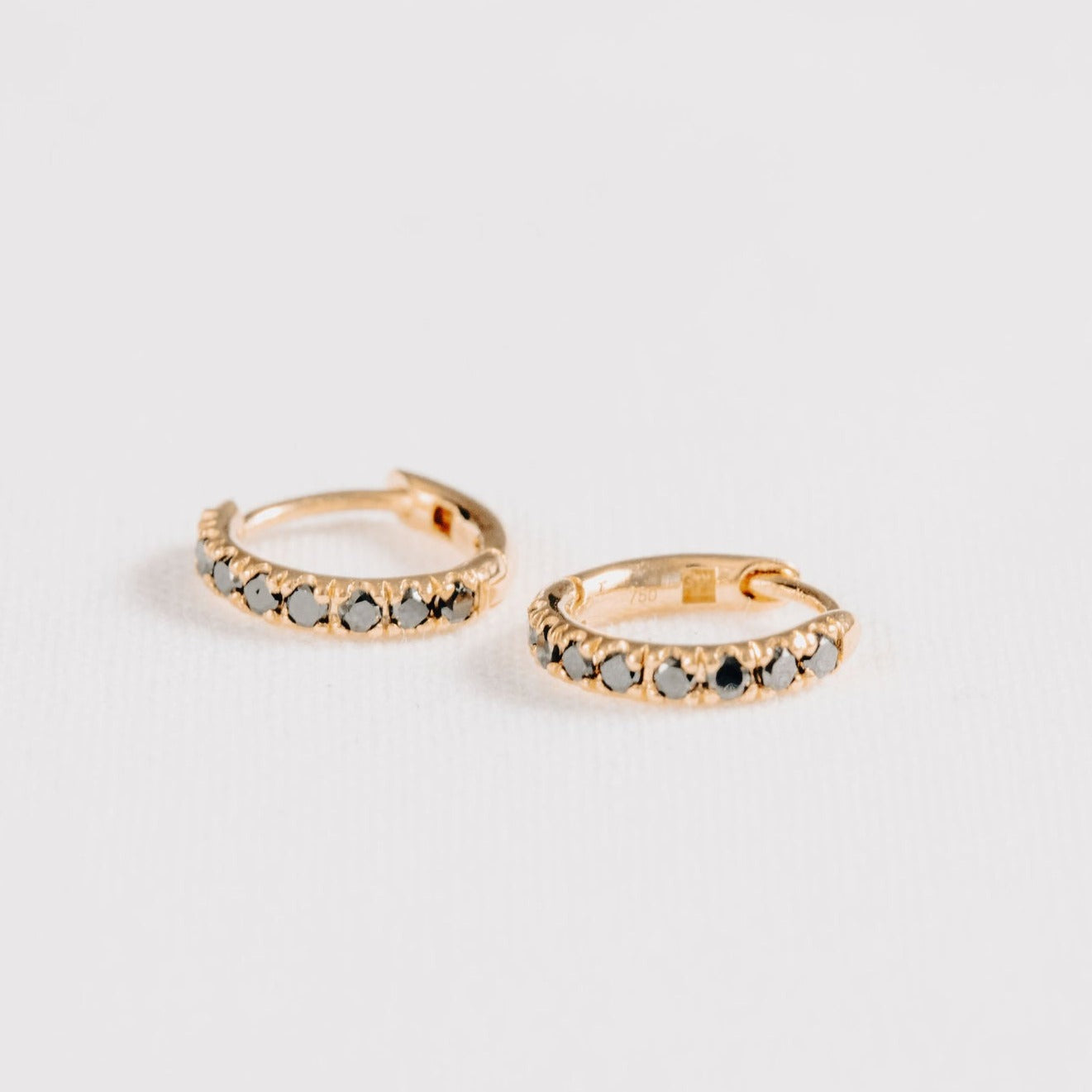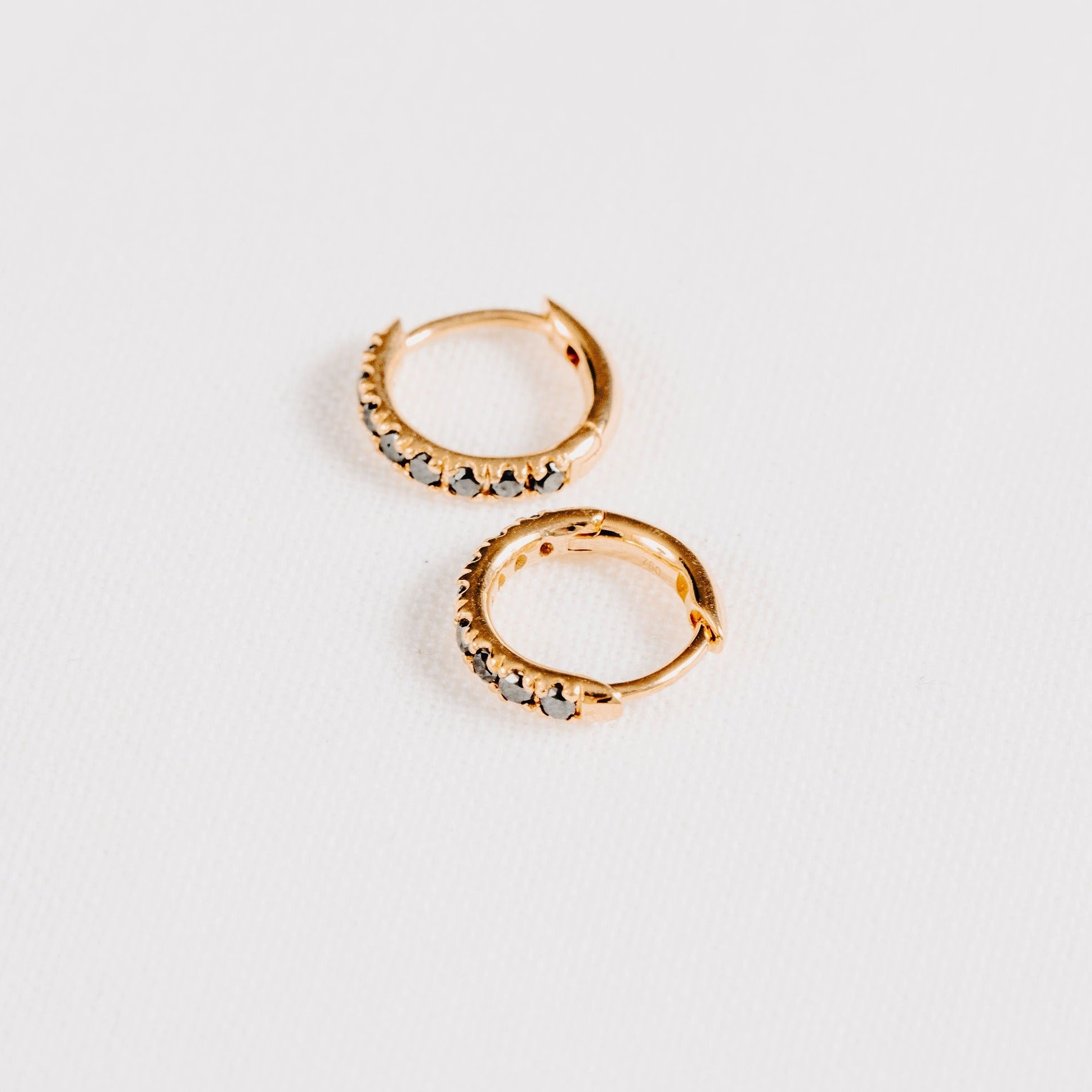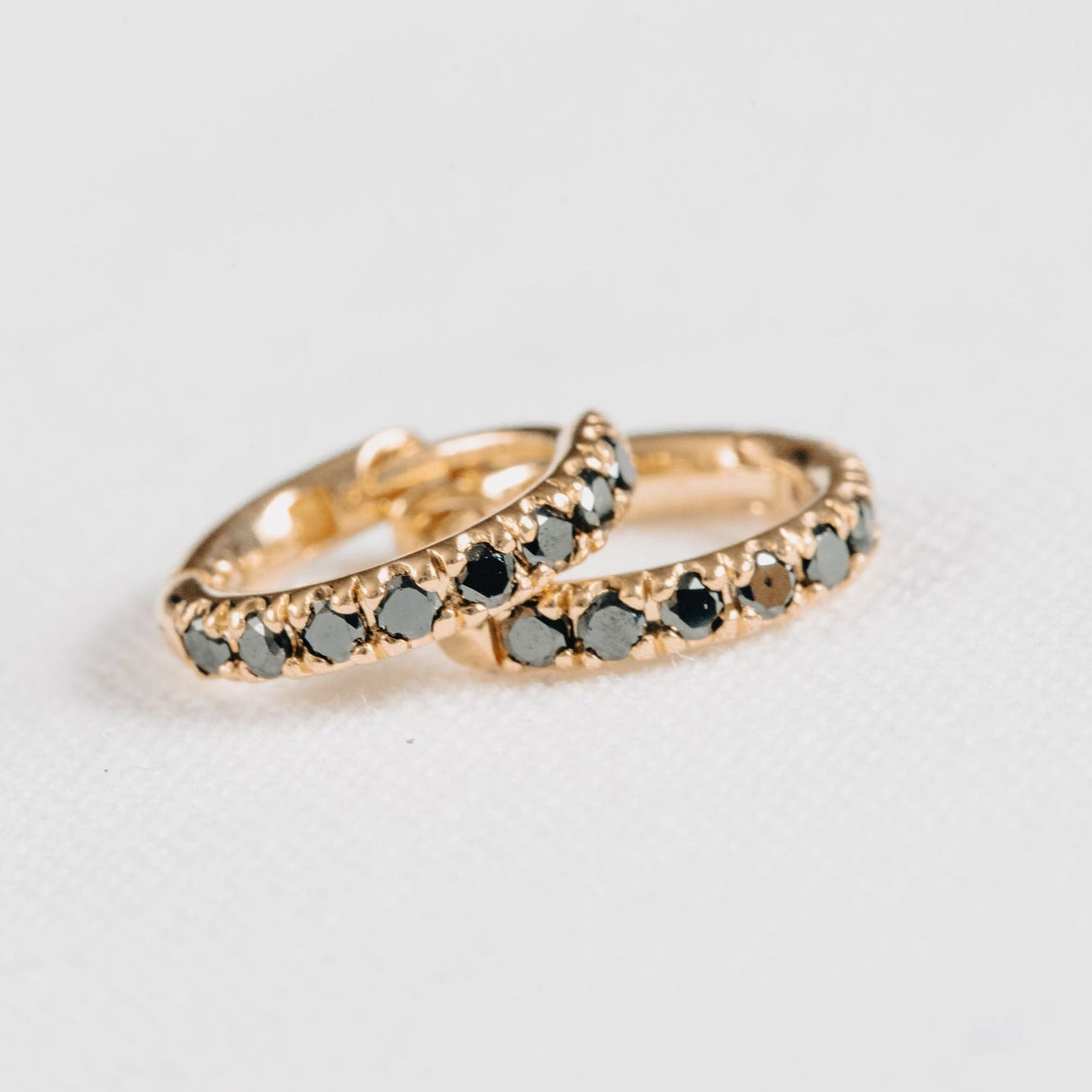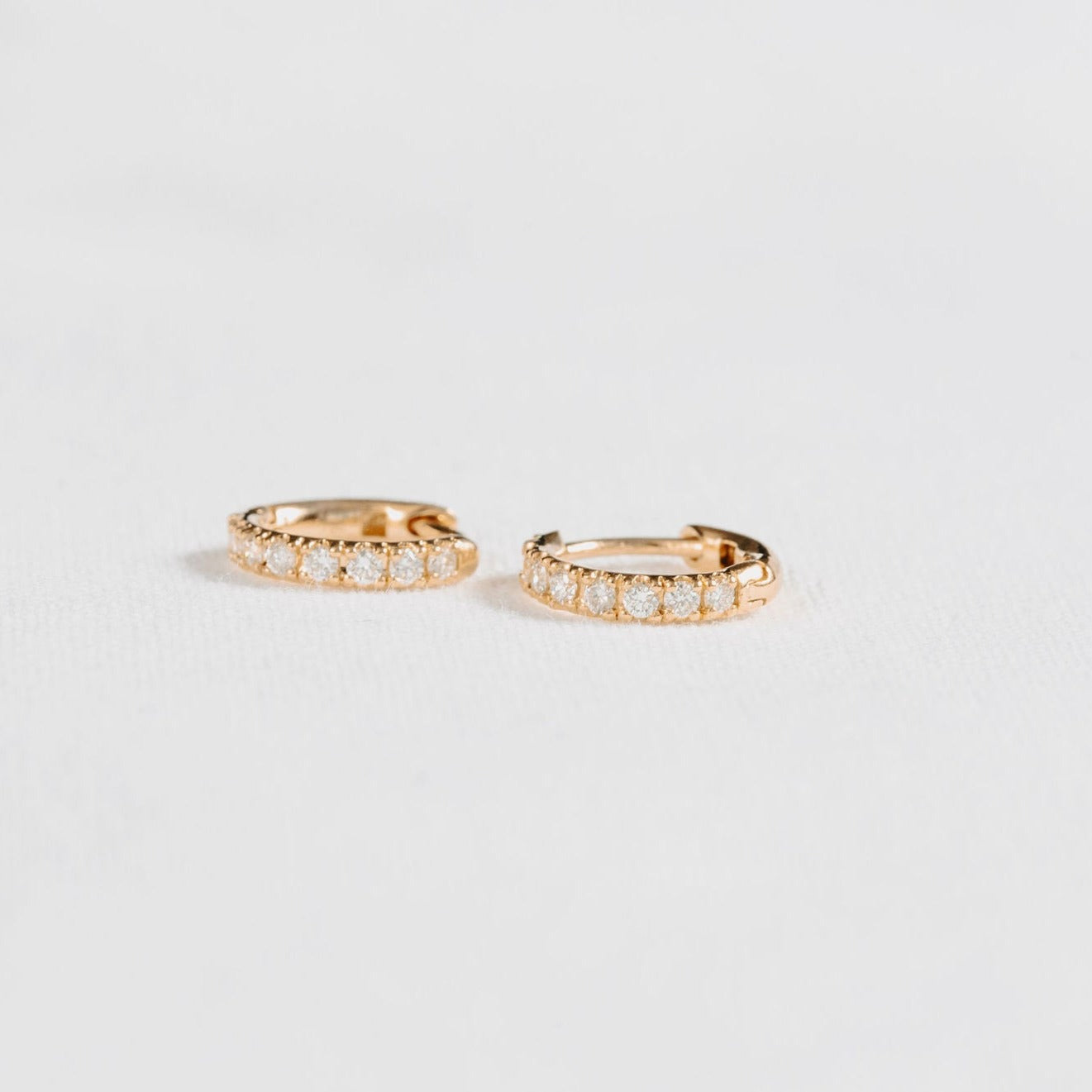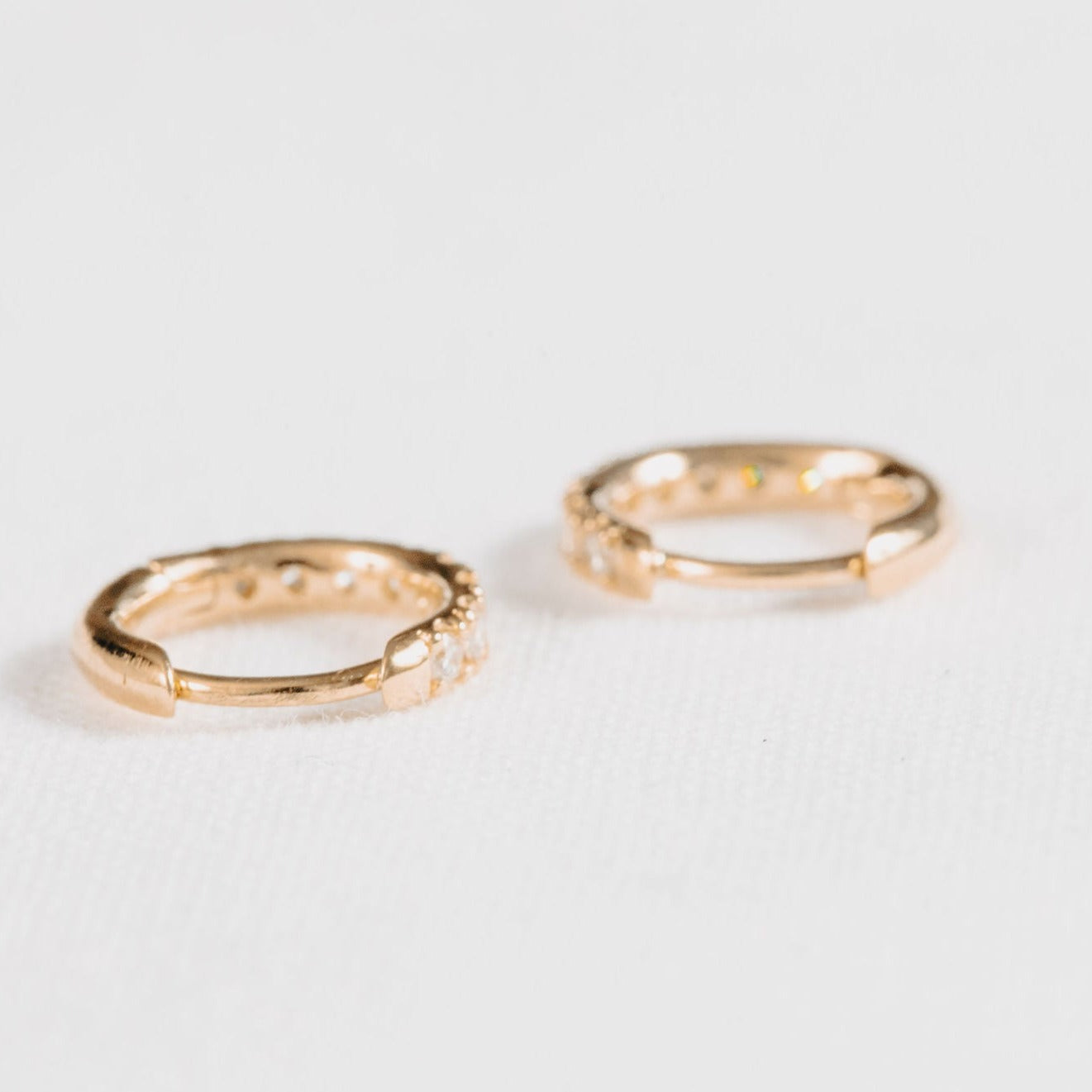 Everyday - Diamond Huggies
18ct yellow gold claw set mm huggies. Available in 1.5mm white diamond (Natural) and black diamonds. Internal diameter 7mm. 
RINGS WITH DIAMONDS & GEMSTONES
To clean your gemstones at home place in a small bowl with lukewarm water and some liquid dish soap (sunlight liquid or similar). Allow it to soak for a few minutes then, using a soft toothbrush, brush behind the stones and rinse with fresh lukewarm water (avoid drastic changes in temperature). This will remove grease and soap scum build up behind your stone(s). Feel free to book in to get your jewellery cleaned and checked if you have any concerns.
YELLOW GOLD
Like all other precious metals, gold requires special care and attention to look its best year after year.
The easiest way to care for your yellow gold jewellery at home is to make a mixture of 10 parts water and 2 parts liquid dish soap. Soak your pieces for at least two hours, then polish with a soft cloth (no paper towels).
To avoid damaging your gold jewellery, steer well clear of chemicals such as: Chlorine; Chloride; Bleach & Solvents;
SILVER
Silver generally tarnishes gradually over time when not in use but can also happen when in contact with chemicals and sulphur. The best method to remove tarnish is a silver cleaning solution or a silver cloth. Here's our favorite - Erika Watson's recommended cleaner.
WHITE GOLD
White Gold is different to other golds as it generally has a rhodium plating that gives it its beautiful white shine. We recommend a professional polish every 6-12 month depending on the wearer. Avoiding wearing it in pools with chlorine and bringing it in contact with chemicals such as hand sanitizer as this can reduce the longevity of the plating.
PEARLS
Pearls have a porous surface and should be treated with more care than most other jewellery. They are normally threaded on silk or glued therefore you should avoid water exposure and perfumes as these can not only discolour the pearls and dull their lustre, but they can break down the glues and silk over time.
Pearls should be the last item put on and first thing taken off. We recommend keeping a stylish Jewellery Dish handy in your bathroom and bedroom as a reminder!
SCRATCHES
As with all precious metals, to remove scratches from your metal jewellery you will need to have it professionally polished in our workshop.
UNTANGLING A CHAIN
* Lay your chain on a flat, non-porous surface
* Get two pins or tacs and place the points into the knots
* Slowly and carefully wiggle until the knots loosen and you can thread an end through and repeat until all knots are removed
HERRINGBONE & SNAKE CHAINS
These tight-linked, seamless chains can be difficult to keep in perfect form. We recommend laying your piece flat in the box it came in when not wearing or with the catch unlinked and coiled. Avoid storing with pendants hanging from them or with other items to reduce the risk of kinking.
Want to know your ring size? We've created a helpful sizing guide below or you can download this free app to do it for you!